"Unaffordable" contracts between the state and its civil service seem like a coming step in the 'great deleveraging'. Not just in Greece:
Having pared the budget to the bone, the city of Stockton, CA has resolved that it can no longer avoid revising the labour contracts of city employees.  Here's the agenda (pdf) for the city council special meeting — look under "NEW BUSINESS" at the bottom:
And here's the May 27 press release:
City of Stockton News Release
Connie Cochran
Public Information Officer
FOR IMMEDIATE RELEASE : Wednesday, May 26, 2010
Stockton City Council Declares Fiscal Emergency
(Stockton, CA) – The Stockton City Council adopted a Resolution this evening to declare a fiscal emergency.
This declaration is necessitated by historic and ongoing financial conditions laid bare by the current economic crisis, including declining revenues, escalating costs and unavailability of fund sources.
The Resolution passed unanimously with full support of the entire Council and will provide the authority to address urgent fiscal issues.
"We're declaring this emergency in order to protect our city and benefit our citizens," said Mayor Ann Johnston. "The Council is united in our continued commitment to fiscal solvency, and we are taking this action to facilitate the immediate steps necessary to remain solvent."
The City of Stockton has cut an unprecedented $39 million over the past two years. Nevertheless, current projections estimate the city will face an additional shortfall of $23 million for the 2010-11 fiscal year. The City has already implemented significant reductions to programs and services and will make deeper cuts in order to obtain more savings.
More than 200 employees have received preliminary notices of position elimination. Layoff notices will be issued to hundreds of employees in the coming weeks. Departments are being combined and restructured in order to deliver services more efficiently and to maintain a basic level of public services. The City is meeting the public's demand for a balance among public safety, infrastructure maintenance and quality of life services.
In recent citizen surveys, street maintenance, trees, libraries and recreation programs were ranked as services that are highly valued by citizens. A proposal to close libraries has been protested by citizens, citing Stockton's national recognition for low literacy rates. At town hall meetings, families made emotional pleas to save libraries and recreation programs. Citizens expressed that Stockton already has few resources and diversionary activities for youth which contribute to the quality of life and are known to assist with crime prevention in the community.
The majority of the City's budget is comprised of employee salaries and benefits. Employee labor groups have made some concessions, but these have been temporary measures and do not provide the ongoing structural change that is critical to stabilizing and reversing the deficit trend. Stockton's existing employee salary and benefit levels are not sustainable in this economy and threaten our future. Significant restructuring of employee labor contracts is essential to protecting the City financially.
"We all must do our part. We must all make personal sacrifices, contribute more toward our health care and retirement plans, and do whatever is necessary to save our city," continued Mayor Johnston. "We are confident that the labor unions will work with us toward our mutual goal of recovering from this economic crisis. We look forward to a more efficient and healthy organization as the economy improves."
The City Charter requires that the Council adopt a balanced budget by the end of the fiscal year, which is June 30, 2010. In order to do so, the City must respond and react to economic conditions that are worsening and costs that continue to rise. The fiscal emergency declaration will be removed once the City Council has the ability to implement essential solutions to the fiscal problems the City faces.
For more information about the City of Stockton budget, please visit www.stocktongov.com or call (209) 937-8827.
###
UPDATE 1 JUNE 2010
Stockton public-sector unions fight back. Not least the police department.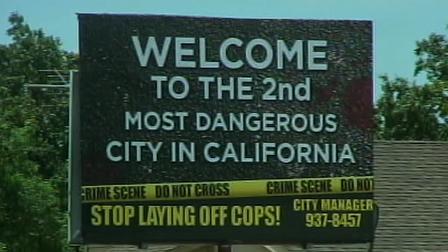 STOCKTON, CA (KGO) — Police officers in Stockton hope an aggressive advertising campaign helps stop a wave of layoffs that has been depleting their ranks.
One billboard welcomes visitors to "The second most dangerous city in California." So far the police officers union has put up five billboards and they plan to have 25.
"The bottom line is we're working barebones now, we cannot stand to layoff another 58 officers," says Stockton Police Officer Sean Fenner.
"We cannot sustain the contracts we have now. We cannot pay for the people we have employed today without concessions from the union. That is the fiscal reality we're dealing with," says Stockton Mayor Ann Johnston.
The city faces a $23 million budget deficit. The police and fire departments make up just more than three-quarters of Stockton's entire city budget.
(Copyright ©2010 KGO-TV/DT. All Rights Reserved.)